Quick Take
Shopify (SHOP) has acquired Handshake for an undisclosed amount.
Handshake has developed an e-commerce business-to-business [B2B] platform for wholesale.
SHOP is seeking to bolster its Shopify Plus platform as it seeks to expand its value proposition to businesses of all sizes.
Target Company
New York-based Handshake was founded in 2010 and has developed an e-commerce platform that enables merchants to sell wholesale goods.
Management is headed by Glen Coates, who was previously Server Reliability Engineering at Bread (acquired by Yahoo).
Below is an overview video of the company's offerings:
Handshake's primary offerings include:
Handshake Direct
Handshake Rep
Company partners or major customers include:
ClearVision Optical
Kodiak
Homemade
Oxo
Starkey
Investors have invested $23.5 million in the company and include B37 Ventures, MHS Capital, Sozo Ventures, Uncork Capital, Boldstart Ventures, Emergence, Point Nine Capital, and Primary Venture Partners. Source: Crunchbase
Market
According to a market research report by Forrester Research, the B2B market in the US was valued at $5.1 trillion in 2012 and expected to reach $9 trillion by 2018.
This represents a CAGR of 9.8% between 2012 and 2018, as shown by the graphic below: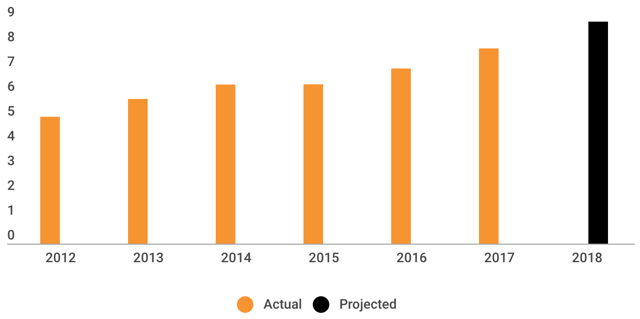 The segment of SaaS e-procurement systems that operate outside of a network was expected to reach $834 billion, growing at the fastest CAGR of 37.7% during the same period.